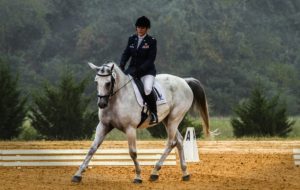 Think again about your signature story and how you can use it to demonstrate your skills and expertise. How you make them a part of your business.
From a practical standpoint, don't you want to be immersing yourself daily in the one or two things that you absolutely love to do? And share that with clients who want to benefit from your expertise, and who see how much you enjoy the topics you share with them?
When I was 11 years old, my parents bought me a pony. It was a lifelong dream at that time (all of 11 years, but I think I was born wanting to ride), and my interest was so intense, I very quickly became a more than capable rider and overall equestrian.
I grew taller and gained a full sized horse named Bo, started training with a few dressage trainers, and loving the discipline it required—soft hands holding the reins in contact with the horse's mouth, a balanced seat in the saddle, and while it didn't look like I was moving, my legs, hands, and seat told the horse what to do, how fast, and at which gate.
I appeared to be just sitting quite still on Bo's back, but in fact I was making a lot of unyielding requests. The more I rode and improved, the more Bo loved being ridden and trained, and we were a great team together.
And then I turned 17 and finished high school. After more than four years of intense training, I was ready for college and new subjects to learn. I used the discipline from riding and a thirst to learn new subjects to study science, and major in microbiology.
Riding and learning horsemanship taught me so many other things I use and enjoy today—an interest in diving deep and training hard at a professional level and offering that same commitment to serving my clients; a love for refinement, nuance, and never giving up, which horses and riding dressage offer in spades; a life-long interest in intuition and what it offers, something I use on a daily basis, and if you've ever hung around horses, you know they are giant, intuitive, beautiful beings.
This is another signature story. It's different from yesterday's post but it serves the same purpose. I show you how profound owning a horse was for me, and how I have taken what I learned as a young equestrian and apply it to my business practices today.
For certain audiences and situations, I could use my horse signature story and the people reading it would immediately feel a bond. And the audience wouldn't necessarily be equestrians.
What have you loved and were attracted to as a child have you incorporated directly into your present day experience? Of what you offer to you clients? Do you have a "horse" story?